Orthodox Carvings in Wood and Stone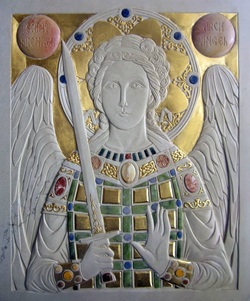 Jonathan Pageau carves Eastern Orthodox Icons and other traditional Christian images in wood and stone.

He has received commissions for churches and individuals from all continents.

The rich visual, liturgical and theological heritage found in traditional carving -from Byzantine ivories to Celtic crosses to Romanesque capitals- is inexhaustible.

In the gallery you will find carved icons, but also carved Orthodox pectoral crosses and a variety of other liturgical objects.

All most work is done on commission, and so please contact Jonathan in order to order something from him.

---
---
Icon Carving Classes

Jonathan teaches icon carving in collaboration with Hexaemeron, a non-profit organization dedicated to the sacred-arts.
CLASSES FOR 2018
​​​​SEPTEMBER 2-8, 2018 THIS CLASS IS FULL
Diakonia Retreat Center, Salem, SC
VIEW DETAILS​
Jonathan's carving classes are now available for credit in the Master of Sacred Arts program developed by Pontifex University. You can see their wonderful program at
http://www.pontifex.university/
---
---
Youtube Series
Jonathan started a series of videos called The Symbolic World on Youtube in order to explore the symbolic worldview in relation to the Bible, Religion, society and also interpreting popular culture such as movies.
h
www.thesymbolicworld.com
---
Orthodox Arts Journal

Jonathan is an editor at the Orthodox Arts Journal, an online journal devoted to the Orthodox arts which gathers scholars, musicians, designers, artisans and iconographers from North America and Europe.

You can find the journal here:

www.orthodoxartsjournal.org

---

​

Contact


If you would like to receive an e-mail when new icons are posted to the website, please fill out your e-mail below to receive our newsletter.