About Jonathan Pageau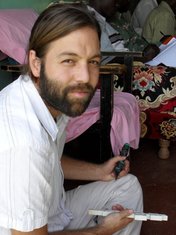 Jonathan carving a cross
Jonathan graduated with
honors
from the Painting and Drawing program at Concordia University in Montreal during the late 1990s.
Quickly
disillusioned
with contemporary art, he discovers icons and traditional Christian images along his own spiritual journey. Rekindling his love of art through study of traditional forms, Jonathan develops a passion for wood carving. While living in Kenya for several years, he also discovers the properties of a certain type of steatite called Kisii stone.
Having studied Orthodox Theology and Iconology at the University of Sherbrooke, s
ince 2003 Jonathan has been carving different types of liturgical objects. His carvings have been commissioned by priests, bishops and laypeople in the United States, Canada and in Europe. His work is also represented by major liturgical art companies including Desmarais & Robitaille in Canada and New World Byzantine Studios in the United States.
Jonathan is also one of editors and contributors s of the Orthodox Arts Journal and also teaches icon carving with Hexaemeron, a non-profit organization dedicated to the sacred-arts.

---
The Carvings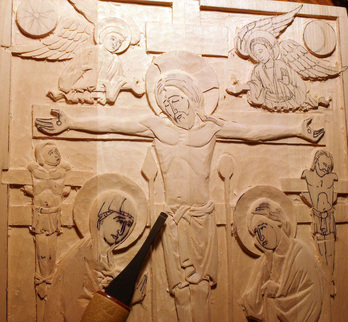 Each carving, both of wood or stone is fully unique and completely hand-carved with chisels and knives. Few power tools are used.

Iconographic canons are respected, yet through emphasis, composition and synthesis of certain elements, each image remains unique. No image is simply copied from any one traditional source.

Special attention is given to detail as each fold is carefully rendered, each expression carefully considered.

The act of carving can become prayerful meditation when done with love and a quiet heart.


---
Steatite Icons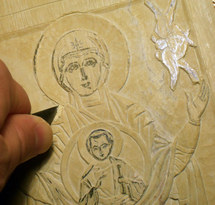 Sign of the Theotokos in yellow Kisii stone
Carved steatite icons became quite common in the 10th to 15th century within the Byzantine Orthodox world and this is one of the traditions that Jonathan wishes to revive. Steatite is a very rich and beautiful material that can be used similarly to medieval ivories.

Many of the the carvings seen on these pages were carved from Kisii stone, which is a type of steatite found exclusively in the Kisii area of Kenya. Unlike other types of steatite, Kisii stone is found in many colors while always holding a surprising amount of detail.

Colours and sizes vary depending on availability of certain stones. Please contact us for more detail.



---
Media